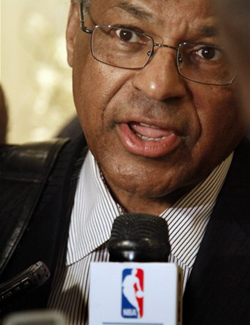 NEW YORK – NBA players association chief Billy Hunter on Wednesday assailed the owners' latest collective bargaining proposal and said he is prepared for owners to vote on a lockout at next Tuesday's Board of Governors meeting in Dallas.
"Their demand is gargantuan and we just can't meet it," Hunter told reporters at the Manhattan hotel where players are staying for crucial meetings and draft-related activities this week.
A day after commissioner David Stern seized control of the message by disclosing details of the owners' latest proposal, Hunter gathered reporters in an effort to respond and "set the record straight," he said. At the meeting, also attended by union president
Derek Fisher
of the
Lakers
, executive committee member
Maurice Evans
of the
Wizards
and union staff, Hunter said the owners' latest proposal would cost the players $8.2 billion over 10 years compared to the current system and $7 billion compared to the players' standing offer.
"Under their proposal, over five or six years, they would reap a profit of over $1.8 billion after expenses – after their alleged expenses," Hunter said.
Hunter and Fisher also clarified a point that was lost after Tuesday's bargaining session: As part of their proposal to guarantee the players $2 billion in salary and benefits per year during their 10-year proposal, owners are seeking to keep the $160 million in escrow money withheld from players' paychecks for the 2010-11 season. Eight percent of player salaries is withheld under the current agreement and returned each August to ensure that players ultimately wind up with 57 percent of basketball-related income (BRI).
"That's money that players have already earned, worked for this past season," Fisher said. "That's off the table, as far as we're concerned. To me, it speaks to the arrogance that they feel in approaching us with their proposal, to be able to go back and reach for those dollars."
Fisher also assailed Stern's characterization of a new cap system verbally proposed by owners as a "flex cap," with a $62 million target per team and an undetermined maximum and minimum.
"We view that as just a total distortion of reality," Fisher said. "It's not a flexible cap, it's a hard cap. … It's flexible as long as you're below what the hard level is."
The so-called flex-cap concept disclosed by Stern Tuesday "has not been in a written proposal, with any teeth or any details," Fisher said.
In response to the union's complaints, Stern said Wednesday night: "Players have benefited from the current system more than the teams. For them it has been a much better partnership. We are sorry that the players' union feels that way since it doesn't seem designed to get us to the agreement that is so important to the teams, and we had hoped, the players."
In briefing players around the league on the state of negotiations, including teammate
Kobe Bryant
, Fisher said players "are in total disbelief. They have asked us point-blank why we are even talking."
Despite the grim turn these talks have taken in the past 48 hours, there's no need to panic. There is a blueprint for getting sports labor deals done when the sides are far apart, and the NBA talks are following it to a tee. I'll let the sports labor veteran I spoke with Wednesday take it from there.
"You curse each other out, go to marriage counseling, then blow the house up and stay away from each other for a while," the person said. "And you bring everybody back together when the bills come due. There's a deal to be made in there, but not now. No way."
With eight days before the current labor agreement expires, union officials will meet Thursday with player representatives of all 30 teams and as many as 20 other players who have elected to attend. Hunter said union officials will then determine what, if any, counterproposal to make in Friday's scheduled bargaining session – likely the last one before the owners' full Board of Governors convenes Tuesday in Dallas, where Hunter said he expects a lockout vote to occur.
"I'm sure that there's going to be a vote," Hunter said. "Whether or not they lock out, that's going to be up to them. We've been threatened with that for the last two years … so I'm assuming that, from their perspective, (June 30) is the drop-dead date."
Hunter and Fisher explained how they arrived at their offer of a more than $100 million-a-year salary reduction in their five-year proposal, saying it amounts to 57 percent of what Fisher described as the owners' "true losses" – the same share of BRI they currently receive. By the players' estimation, the owners' $300 million annual loss figure is actually less than $200 million when interest expenses are deducted. Hunter stopped short of calling it an ambush, but he and the players clearly were blindsided when Stern characterized this offer as "modest."
"I guess at this stage, the question is to what extent are they willing to kill this thing," Hunter said of the owners.
Hunter also said owners have proposed adding $900 million to the $600 million that currently is deducted from gross revenues before the money is shared with the players, bringing the total to $1.5 billion under the owners' proposal.
And a key sticking point remains the fact that owners have refused to collectively bargain a revamped revenue-sharing plan, an area the owners believe should be kept separate from the negotiations. Hunter referred to a group of small-market owners who wrote a memo to Stern in 2007 asking for enhanced revenue sharing, saying the fight is between small- and big-market owners as much as it is between owners and players.
"They have not disclosed to us one iota of what their proposed revenue-sharing plan would look like," Hunter said. "… We want the assurance that it's not all coming off the backs of the players."
Hunter again derided the owners' offer of a flat $2 billion pay scale for 10 years, saying the players would not regain the $2.17 billion level of salary and benefits they received for the 2010-11 season until the 10th year of the owners' proposal. The union is projecting 4-5 percent annual revenue growth for the league over the next decade, a figure that is expected to rise after the current broadcast and digital rights agreements with ABC/ESPN and TNT expire in 2016.
Hunter was careful to stop short of saying the negotiations are at an "impasse," a legal term that would signal that talks have irretrievably broken down – paving the way for a lockout, possible decertification of the union, and an antitrust lawsuit similar to the case filed by the NFL Players Association.
"We're not at an impasse because there's so many issues that we haven't discussed," Hunter said. "We've gotten stuck on economics."
Asked if he trusts Stern to negotiate a fair deal, Hunter said, "We're engaged in hard-knuckle negotiations. It ain't about trust."
"We have an idea what we're willing to do and what he's willing to do," Hunter said. "And what we've indicated to them is that the perception is that it's really becoming a game of power vs. power. And right now, I think that they feel as though they have the leverage or the upper hand."