CHICAGO – The
Heat
convened for practice Monday on the University of Illinois-Chicago campus with a big problem on their hands. That problem was named
Derrick Rose
, who was hunkered down with coach and film junky Tom Thibodeau at the
Bulls
' practice facility 45 miles away.
By the time I arrived at the Berto Center in Deerfield, Ill., Rose was seated in the corner of the practice floor next to Thibodeau, deeply entrenched in another video session. They watched, they gestured, they scratched their chins as they dissected everything the Bulls did wrong in Game 1.
To the outside observer, that wasn't much. Chicago has a 1-0 lead in the Eastern Conference finals because Rose played a nearly perfect second half, and because the defensive attention he commanded allowed the Bulls to dominate the offensive boards in a 103-82 victory Sunday night. The team with the problems, and with the adjustments to make in Game 2, is Miami.
"They'll do different things, put different players on him, adjust coverages," Thibodeau said. "We've got to be ready to handle that."
Although Rose had only two shot attempts within five feet of the basket in Game 1, the defensive attention he attracted left the Heat vulnerable on the boards. The Bulls used this advantage to corral 19 offensive rebounds, which they converted into 31 points. That was the difference in the game, delivered mostly by Rose and the way he forced the Heat to play him.
"Any way you can get an offensive rebound, they got them," said Heat coach Erik Spoelstra, downplaying Rose's impact on the Bulls' huge night on the glass. "It wasn't necessarily about Rose's penetration."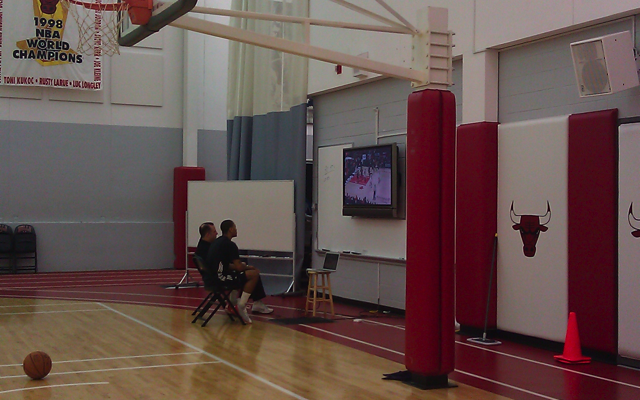 But the Heat's disadvantage is more pronounced when they play with a true point guard on the floor: starter
Mike Bibby
or backup
Mario Chalmers
. This has been Spoelstra's overwhelming preference, as nine of his 10 most-used lineups during the regular season featured a point guard,
according to 82games.com.
(If you count
Eddie House
as a point guard, it's 19 of Miami's 20 most-used lineups.)
With Rose being the single most important player for the Heat to contain, Spoelstra is in a quandary as he considers making what would be the most significant tactical adjustment of the series: going for longer stretches without Bibby or Chalmers on the floor. This bigger lineup would feature
LeBron James
initiating the offense and guarding Rose on the defensive end, which would limit the amount of traps and double teams the Heat have to deploy.
Dwyane Wade
would be at the other wing, with floor-spacer
James Jones
at small forward and
Joel Anthony
and
Chris Bosh
up front.
Spoelstra only used this configuration for 40 minutes this season, counting regular season and playoffs – and 30 of those minutes have come during the postseason, according to adjusted plus-minus guru Wayne Winston. It's impractical for Spoelstra to play the majority of the game that way, but in proper doses and in the right situations, this bigger lineup with James at the point (or Wade, for that matter) would solve three of the biggest problems that imperiled Miami in Game 1.
First, a bigger, stronger defender would be able to limit Rose's penetration and bother his jump shot without overloading the floor with help. Staying at home defensively would give Miami a better chance to keep the Bulls from dominating the offensive boards, and a better defensive rebounding performance would ignite the Heat's transition game – or, at the very least, get them into their offensive sets faster, before Chicago's disciplined defense has a chance to get set.
Aside from how long Spoelstra is willing to play with Jones instead of James guarding
Luol Deng
, the key factor in deploying this strategy is James' willingness to give up scoring opportunities while being more of a facilitator on the offensive end and also embracing the challenge of guarding Rose.
"It doesn't matter," James said Monday. "I've guarded all five positions throughout this regular season and postseason. Whatever it takes for us to win. If it means guarding Rose from the start and playing more point guard, I'm up to the task."
One Eastern Conference coach familiar with both teams agreed that playing James at the point with Jones at small forward is "feasible," but added, "Not full time." One problem is Jones' defensive matchup against Deng, who scored 21 points including 4-for-6 shooting beyond the 3-point arc Sunday night with James guarding him. The other issue is whether James has enough quickness to check Rose, and how he would handle defending pick-and-roll situations.
To that extent, Wade could defend Rose some of the time, with James on
Keith Bogans
or
Ronnie Brewer
. And whatever problems this presented defensively, the Heat would more than make up for it by putting tremendous perimeter pressure on the Bulls' defense. With James and Wade penetrating from either wing, they'd have options: kicking out to each other, to Bosh on a pick-and-pop, or to Jones for an open 3-pointer. This way, Miami would steal Chicago's offensive momentum and force the Bulls to come up with something to counter it.
In 30 minutes of floor time during the playoffs, the lineup of James, Wade, Jones, Bosh and Anthony has performed 20 points better than average, when adjusted for the strength of the opponent, according to Winston. That's only slightly better than the plus-19 rating for 73 minutes with Bibby instead of Jones. When Chalmers plays with those players instead of Bibby or Jones, the Heat have played 30 points better than average during a 75-minute stretch.
The first step in Spoelstra's tactical adjustment will be to play Chalmers more than Bibby when he goes with a true point guard on the floor. With Chalmers on the floor during the playoffs, the Heat have played 12 points better than average and only three points better than average with Bibby.
If that doesn't work, look for Spoelstra to step up his experimenting with a bigger lineup featuring James and Wade as co-facilitators on offense and co-Rose-stoppers on D.
As I've said before
, the Heat should've played without a true point guard more often during the regular season – a look that would've made better use of their transition and off-the-dribble skills – so it wouldn't be such a significant adjustment now.
But like LeBron said: Whatever it takes. And it might just take an unorthodox approach to beat a team like the Bulls, and to stop a disruptive force like Rose.