MIAMI – The end comes fast sometimes, and Shaquille O'Neal has reached it. Just like that, on a sunny Wednesday morning in South Florida, one of the giants of the game arrived at the finish line. Or rather, the finish line arrived at him.
Shaq didn't retire Wednesday or suffer some unmistakably career-ending injury. There was no farewell news conference, no roast in a fancy banquet hall somewhere. But
Celtics
coach Doc Rivers, who'd hoped against hope that one of the best centers who ever lived might give him something – anything – in this playoff series against the
Heat
, said the words that needed to be said. They are the words that no legend wants to hear, words that no coach wants to have to muster the courage to say. But Rivers said it, right there in front of a black curtain in a staging area of American Airlines Arena, in the hours before Game 5 of the Eastern Conference semifinals.
In so many words, Rivers said Shaq is done. Finished. Can't play anymore. One of the last true post-up centers still roaming the Earth has reached the end. Through nobody's fault but Father Time's, Rivers had to admit Wednesday that the Celtics' experiment with the Big Shamrock was a Big Failure.
"Yeah, there's just nothing he can do," Rivers said. "It's not like he's not trying. I told our team that yesterday. He's done everything you possibly can do to get healthy. Unfortunately for him, he just hasn't been able to do it. When he was originally injured, no one even thought it was that serious. … I think I remember saying it was no big deal, that he'd be back in four or five days. But it just never healed and it still hasn't, and now every time he plays, it gets worse. There's just nothing you can do about it, and we haven't, really."
And with that, an admission from Rivers that the Celtics have given up hope that any more treatment or hours on the exercise bike will make a difference. In all likelihood, O'Neal logged the last 12 minutes of his career in this series, scoring one basket, grabbing no rebounds, and committing four fouls. Like the last living member of a species facing extinction, O'Neal propelled himself forward until he literally could not move anymore.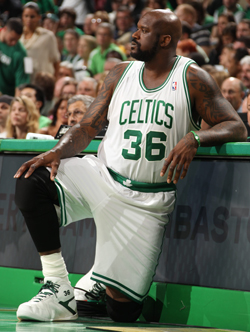 It is not the first time Rivers, one of the great protectors of players and their egos in the coaching business, has had to deliver such grim news.
"I had Patrick Ewing in his last year in Orlando, and I played with him," Rivers said. "And I was the coach telling him, 'We're not going to play you anymore.' That's an awful position, because what makes them great is their pride. Even when they're barely walking, in their minds they still think they can actually change the outcome of a game. And sometimes you have to be the one to tell them they can't. And that's very tough."
After 19 seasons, O'Neal, 39, has one year left on a $1.4 million player option for next season. On a steady decline since his last productive season in 2008-09 with Phoenix, it is difficult to imagine O'Neal earning that money on the court. For an icon of his stature, pride and going out with dignity mean more than a seven-figure pay day – especially if you've already made close to $300 million in your career, not to mention hundreds of millions in endorsement money.
"You can never take away anything he's done in this game as a champion, the way he set the blueprint for guys like
Dwight Howard
on and off the court," said
Dwyane Wade
, who shared the 2006 NBA title with O'Neal. "He's a living legend. It's unfortunate you get to a point in your career where you have to be hawked by injuries."
The guy sitting next to Wade at the interview table played one season with Shaq, and also had his differences with the big fella. When I asked Wade and
LeBron James
to weigh in on this being the end of the line for one of the NBA's greats, James put his head in his hands offered silence. After Wade volunteered to go first – "Since I played with him first," he said – James also took a crack at summing up one of the most dynamic figures the NBA has ever seen.
"Talk about someone who does it on both sides of the floor, and on and off the court, he did it as far as using his personality to get out to the world," James said. "He made fans believe they were one with him. … If he was a complete stranger and you saw how big he was, you wouldn't be afraid to go talk to him because you saw how likeable he was and how his personality was, how outgoing he was. Definitely like D-Wade said, he laid the blueprint for a lot of people, not only on the court, but off the court. Still to this day, he's still a great person and it's unfortunate, like D-Wade said, when you get to a point in your career where you have injuries."
Whatever happens to the Celtics, Rivers said Shaq should "walk away for the summer and then decide what he wants to do." But O'Neal has reached the point where the decision is out of his hands. Time stands still for no one, no matter how many championships (four), All-Star appearances (15), or nicknames (countless) he has.
"I just know that this has been emotionally draining to him, more than you guys would know," Rivers said. "He feels awful about this because this is why he came here, to get to the playoffs and then play in the playoffs. And then not being able to do that has really hurt him."
At training camp in Newport, R.I., many months and miles ago, O'Neal recalled his offseason phone calls to the Celtics' Big Three before signing with Boston.
"I basically was like, 'Help me help you,'" O'Neal said. "So I'm gonna help them get two and I'm gonna get five."
A few weeks later, in the locker room at Madison Square Garden, O'Neal declared the era of the dominant center a thing of the past.
"The days of Patrick Ewing and Rik Smits and Kevin Duckworth and Robert Parish, those days are over," O'Neal said. "Thanks to me."
It turns out he was right, though a few months early.